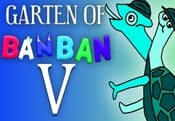 Garten of Banban 5 FREE GAME · PLAY ONLINE
In this game, players will once again go to kindergarten. Do you remember that everyone disappeared here? You have to find at least some clues that will lead to the truth. We want to immediately warn that this part has a lot of unexpected moments.
This you have not seen before! Get ready for some real action and adrenaline! Multi-colored talismans will haunt every guest who enters the territory. Be dexterous and smart to solve all the puzzles and stay alive! This test will test your psyche for strength!