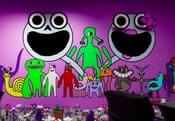 Garten of Banban 4 FREE GAME · PLAY ONLINE
Are you ready to continue exploring the kindergarten? This time, players will have to visit a new location! Be careful, there are many friends living here. They are not friendly and will constantly harass you. In addition, in Garten of Banban 4 participants will have to collect resources.
Perhaps they will help to overcome various difficulties along the way. Solve puzzles to move forward and complete all the goals. Will you be able to not be afraid? This process is not for the faint of heart!