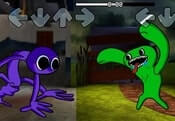 FNF Garten Of Banban FREE GAME · PLAY ONLINE
In this game, the main rap artist Boyfriend ended up in kindergarten. There he met multi-colored characters who are mascots. They do not want to let him out and have prepared many traps. The only way to get out of here is to sing a few songs with them.
Take control of a guy and fight in a musical battle! It will be very hot, because the monsters are very serious! Carefully follow the arrows so as not to miss and get right! Collect more points than your opponent to win! The atmosphere will be creepy, but never mind!