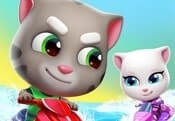 Tom Jetski 2 FREE GAME · PLAY ONLINE
You can choose one of the characters – Tom or his girlfriend Angela. After choosing a character, the latter sits down on a jetski and the water race with obstacles begins. The controls are simple – you need to change the trajectory of movement with your finger so as not to crash into obstacles.
In Tom Jetski 2, you need to collect stars and complete missions, the tasks of which are shown at the end. The graphics are beautiful, it is complemented by fun music. But the idea itself, in fact, has nothing complicated. Stratil – you start the race from the very beginning. Development, special skills appear along the way. You ride a jet ski without end and edge. The idea may appeal to children and adults who love extreme sports.