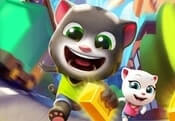 Talking Tom Gold Run FREE GAME · PLAY ONLINE
Every time it all starts a robbery. Seeing the criminal, Tom gives chase. Collecting scattered gold, our cat jumps over cars. He slides under barriers and jumps on buses. I did not have time to slip and the running was over. So that the players do not get bored, there is a bonus system, the purchase of all kinds of improvements and drop-down safes.
In the course of passing, it becomes possible to play not only for Tom, but also for other cat's friends. You need to pass the time in Talking Tom Gold Run – it's just the perfect option. The music is pleasant, the picture is bright – solid pluses. It will appeal to both children and adults.