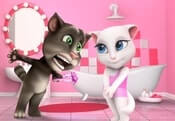 Talking Angela and Talking Tom FREE GAME · PLAY ONLINE
Two famous characters will be together in this game. It seems that they have more than just friendly feelings! In this part, players will be able to have fun with the guys and have a great time. Although they have different interests, they get along well with each other.
Let's feed them delicious food and take a bath with ducks, shall we? You can also walk with them and take part in mini challenges. Get coins to unlock new costumes and more. Make lady makeup and beautiful hairstyles!