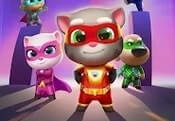 Talking Tom Hero Dash FREE GAME · PLAY ONLINE
Basically, the emphasis is on reaction and attentiveness, there is absolutely no need to think. The main essence of the game is that the main character, and in the beginning it is Tom (later, with the passage of levels, other heroes open), runs and dodges obstacles.
You need to jump, go around and slip under various barriers, wagons and other obstacles. While collecting coins and killing enemies. Sometimes there are bonuses in the form of doubling coins or speeding up. With the collected coins, we can clear the enemies and repair the hero's town.