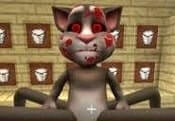 Talking Tom Exe FREE GAME · PLAY ONLINE
The popular character has changed his appearance a little. But this does not mean that his hobbies have evaporated! In this game, players will be able to meet the cat again and have fun. Even though the atmosphere will be creepy, there is a lot of entertainment here.
Above the animal's head there are indicators that show its Wishlist. Make sure they glow green! Feed your pet, wash and much more. If he's happy enough he can talk to you. Don't forget that sleep and rest is very important!