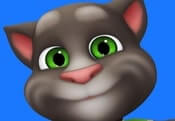 Talking Tom Cat – Old Versions FREE GAME · PLAY ONLINE
It turned out that with a cat you can also do all sorts of things. Stroke the fur, click on the nose or pull the tail. The functions of tormenting the cat (and you can click to the point that the poor virtual cat even faints) amuses users. Fortunately, it later turned out that the functions of violence can be turned off (only a harmless twitching of the tail remains).
In addition, in Talking Tom Cat – Old Versions, the animal can be pestered by a malicious dog. She either knocks over the cake on Tom, or runs out and hits him with a pillow, or frightens him with an explosion of a paper bag. Yes, so the cat flies up to the ceiling in fright.