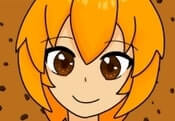 Cookie Waifu FREE GAME · PLAY ONLINE
Welcome to your own cafe! In Cookie Waifu, players will become not only an administrator, but also a waiter. You have to help the young lady cope with her business and become a master! Dozens of visitors will come here to try the most delicious pastries.
You need to take orders from them and meet all the requirements. You receive a salary and additional tips from guests, and then improve the institution. Unlock new types and skins to get even more success! Also, do not forget to buy utilities and much more!