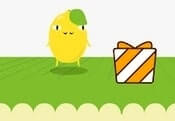 Can Your Lemon : Clicker FREE GAME · PLAY ONLINE
The sour yellow fruit that the whole world eats can become a dear friend to every person? Certainly! In this game it is possible. Grow him, educate him, take care of him and go through challenging tasks together. It will be happy to see you every time.
Zero cruelty in the process, just a pleasant time together. Can you pay enough attention to your plant to get good results? It's not as simple as it seems. Try to do your best and don't forget to present enough love to it. Fans are in for a few surprises!