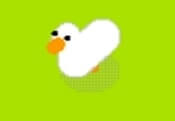 Desktop Goose FREE GAME · PLAY ONLINE
Spending hours on end on the computer and feeling a little lonely? Introducing Desktop Goose! The perfect solution! Believe me, it won't let you get bored or sad, and it won't let you easily navigate your way through the jungle of work tasks. He will interfere in your affairs.
Sometimes you will have to overcome the challenges that he throws at you just to get rid of this friend even for a minute. This is a cute creature, he quacks and tries to understand your computer as well as you.