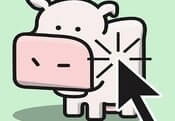 Cow Clicker FREE GAME · PLAY ONLINE
Very funny, beautifully designed toy with its interesting features and gags! At the beginning of the game, we are given a small pen with cows that need to be propagated. By crossing them, we get more and more new types of mutating cows!
And also with the advent of a new species, the previous one can be bought in the store for the coins that cows give. The more cows and the better they are "confused", the higher will be the influx of coins! A little about the characteristics. 2D graphics, smooth and airy. A lot of types of cute cows and full will of experiments and creation options!