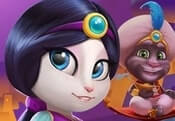 Talking Angela Unblocked FREE GAME · PLAY ONLINE
In this game you will meet the popular cat again. She loves to have fun in many ways and you can join her. She is a real lady and therefore wants to look amazing. In this version, players will be able to find many different additions that are not in the original one.
Unlock new accessories and stylish things in beautiful styles! Don't forget to change the hero's hairstyle and do makeup that will add uniqueness! You can also do other things here, for example, go on exciting trips. Enjoy crazy ideas!