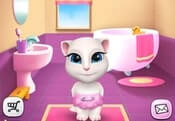 Talking Angela Hacker FREE GAME · PLAY ONLINE
This challenge has spread all over the world and this is its new version! In Talking Angela Hacker, players will be able to follow cool updates and enjoy the atmosphere! The main idea has remained unchanged, but now you can feel unusual emotions.
The cat is a real lady and therefore loves to take care of herself. Players will have to help her and have a great time. Head to the closet and find amazing clothes there! Here you can see something that you have not seen before! Have fun while you're on an adventure!