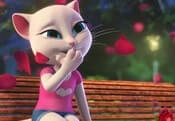 Cat Angela FREE GAME · PLAY ONLINE
Today you will meet Cat Angela again! She looks amazing and is ready to have fun with you! She is a true lady and doesn't mind if you want to do her makeup or change her hairstyle. Here, players will take care of the pet and do everything to make her happy.
Come up with ways to have fun and visit wonderful locations! In addition, the character loves to eat deliciously, what will you cook? Perhaps you would like to treat her with burgers or healthy food? Don't forget to put her to sleep to gain strength and energy.