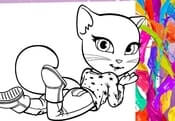 Talking Angela Coloring Pages FREE GAME · PLAY ONLINE
Almost everyone knows this cute cat! She is very fond of all the players and can be found at every turn. In this game, players will be able to show their creativity! Here are collected interesting pictures from this sweet lady.
But unfortunately they are all black and white and now you have to revive them. Use bright colors and apply them where you see fit. Once you've completed your work, you can save it and move on to the next one. Demonstrate your creativity and achieve an excellent result!