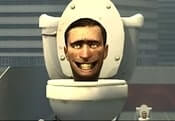 Skibidi Toilet FREE GAME · PLAY ONLINE
In Skibidi Toilet, players will hear a remix of a popular song. Here you will witness the strangest events in your life! A huge crowd of sinks will fight people. The former have male heads under the covers, while the latter have cameras instead of faces.
Participants will watch how they perform the melody in different styles. Some of the fans find it incomprehensible and meaningless. But maybe you will find more references and understand what the real meaning is! Feel the rhythm and follow everyone!