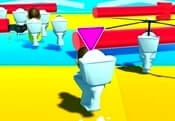 Fall Boys Skibidi Toilet FREE GAME · PLAY ONLINE
How wonderful it is when two favorite games intersect! In this challenge, players will go to the field where a huge number of obstacles await them. Manage funny washbasins that are now at the peak of popularity!
You have to be very dexterous and attentive to cope with all the problems and traps. Jump and run across the platforms to be the first to reach the finish line! Remember that competitors will constantly try to push you down. Don't lose your balance, because it will take some time to recover!