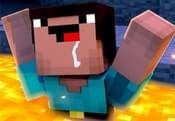 Noob Minecraft VS Skibidi Toilet FREE GAME · PLAY ONLINE
Welcome to the world that consists of squares! Here a new battle is brewing in which the players will take part. In Noob Minecraft VS Skibidi Toilet, fans will need a lot of attention and dexterity. Help the character win and become a master by climbing the leaderboard!
In this challenge, each of you will find a huge number of levels and missions. All of them are unique and varied, so there will be no time to be bored. This activity is suitable for all ages, so start overcoming the challenges!