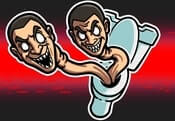 Skibidi.EXE FREE GAME · PLAY ONLINE
In this game, players will visit a new universe that no one knows about yet. There is a laboratory where toilets conduct experiments. One day they noticed a cameraman and took him into custody. You will be in his role and try to escape!
The atmosphere is excellent and completely conveys the necessary emotions. The main thing here is to stay safe and sound in order to get out of prison! In addition, fans should learn about the enemy's new insidious invention! Defeat the enemy and forget all this!