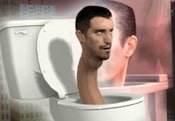 Skibidi Toilet Tier List FREE GAME · PLAY ONLINE
It's time to go on a rather strange adventure! Are you ready to spend time in a location where extraordinary things happen? In this game, the rules do not differ from the original version. Or rather, they are not particularly there, because madness and chaos rule here!
On the left of the screen, letters will be visible that indicate which stage is currently taking place. The main task of the players is to hold out until the end and not go crazy, in a good way! Enjoy this atmosphere!