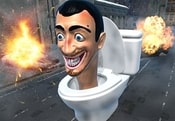 Skibidi Toilet Survival FREE GAME · PLAY ONLINE
In Skibidi Toilet Survival you will be in the role of people. They are afraid to go outside because the washstands can kill them. But in this challenge they still have to do it and you will help them with this! control a character who must get to the finish line.
A huge head of creatures will closely watch each inhabitant. As soon as it turns away, then boldly start moving. But be careful and stop in time if you don't want to be shot. Enemies strike with lasers and it's dangerous, so be on the lookout!