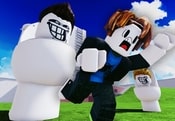 Skibidi Toilet Roblox FREE GAME · PLAY ONLINE
In this game, players will again go to explore the fictional world! There is a huge location where you can walk as long as you like. There are plenty of other players around, so don't be afraid to make new friends.
In this version, the participants have an amazing opportunity to change the old skin. Use the washbasin costume and transform into a legendary character! In this form, everyone will be surprised at your appearance. Enjoy the atmosphere and take part in exciting tasks!