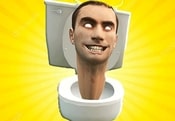 Skibidi Toilet Mobile FREE GAME · PLAY ONLINE
In Skibidi Toilet Mobile, players will go on an exciting journey! You have to go to a world where there are many shells with male heads inside. Explore the streets and be surprised by what you see here! Meet cool characters along the way with whom you can chat.
In addition, the presidents of America walk around here! Immerse yourself in an amazing storyline and enjoy an extraordinary turn of events! The fun will be constant and there will not even be a second to be sad! Solve puzzles and think about endings!