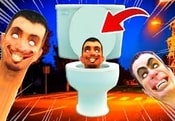 Skibidi Toilet Exe FREE GAME · PLAY ONLINE
This challenge has an amazing storyline that no one has come across yet. In Skibidi Toilet Exe, players will go to a world where chaos rules. Explore the locations and understand that strange things are happening here.
Washbasins with heads, people with cameras instead of faces, high-ranking personalities and so on walk around the streets. Interact with them and understand what the secret meaning is here! In this version, members will also be able to watch new additions. Good luck!