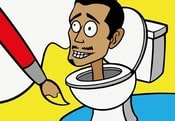 Skibidi Toilet Coloring Pages FREE GAME · PLAY ONLINE
Finally, players can showcase their creativity! In Skibidi Toilet Coloring Pages everyone can enjoy the talents! Prove to everyone that you are full of creativity and start this exciting process! There are many pictures here, but they are all black and white.
It will be much better if you take a brush and paint them! This challenge has a large selection of colors, so the photos will turn out bright. Choose one of them and click on a specific area! It's going to be easy, so stick with the numbers!