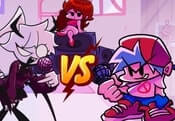 Selvena FNF FREE GAME · PLAY ONLINE
Selvena FNF is a new mod that is completely unique. Here players will be able to demonstrate their best qualities and abilities. This time you will meet a really strong enemy who will not stop just like that.
Go to a location that has a landscape of the city and will add even more motivation. His clothes have a bit of a weird style but maybe you will like it. Be careful to sing four songs perfectly and get the title of the winner! This may seem like a simple task, but just get started and change your mind.