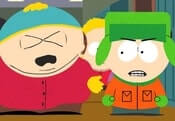 FNF South Park FREE GAME · PLAY ONLINE
These cool characters love crazy things! At FNF South Park, they decide to fight Boyfriend and win. These are two guys who wear cool hats and try to always be in the first place. Let them take the stage and try their luck!
Players will control the arrows on the keyboard to get into the rhythm. Do it with concentration and don't miss one of them to get more points. This is an exciting experience that will give an incredible feeling and make you a little worried. Take the title of the best rapper!