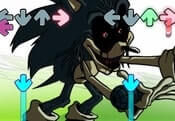 Hit Single FNF FREE GAME · PLAY ONLINE
Boyfriend does not get tired of fighting for the title of the best singer! In this game, players will be able to visit a place where there will be a lot of creepy opponents. Sing a few songs that have a unique vibe and can scare you.
In two of them, a blue hedgehog will take part, which has become even more terrible than before. Participants will also be able to enjoy his new movements and see strange facial expressions. Be attentive to cope with the task and remain the winner! Can you handle it?