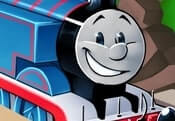 FNF Big Engine Brawl FREE GAME · PLAY ONLINE
This story is about a famous cartoon starring a steam locomotive. Today, players will be able to enjoy the process and go to a new place! According to the plot of FNF Big Engine Brawl, the rapper and his girlfriend traveled.
Suddenly, they decided to stop on an island where the terrain is unknown to them. There live strange inhabitants who are interested in taking part in musical battles. Fans will have to perform several songs and show them their dexterity. Respond quickly so as not to miss the notes!