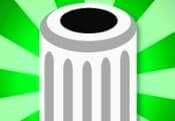 Scrap Clicker 2 FREE GAME · PLAY ONLINE
A very good battle in which you need to connect the same barrels. Upgrade stars for gold trash. Also participate in weekly team competitions for which you can get a bonus in the form of magnets! The more you delve into the game, the less often you will fight yourself. You will only have to deal with the economy of your squad: occasionally acquire new characters.
Upgrade existing levels and so on. If you get bored with everything, and the barrels become too heavy, it doesn't matter. One of the characters has a special skill that will return you to the very start. In doing so, you will receive some bonuses.