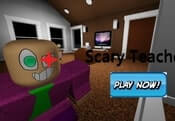 Scary Teacher 3D Roblox FREE GAME · PLAY ONLINE
Now Scary Teacher 3D Roblox has appeared on the famous platform! Players can try it right now without too much movement! This challenge is about a horrible woman who works in a school. She treats her students too badly and it's up to you to avenge her for that!
Sneak into her house to do tricks for the monster! Explore all the rooms and uncover scary secrets! This version differs from the original with graphics and some additions. But it will be just as fun and creepy at the same time!