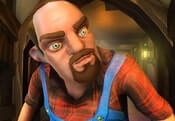 Scary Stranger 3D FREE GAME · PLAY ONLINE
The original version became too popular and now fans can try something new! In Scary Stranger 3D, a strange neighbor has moved in next to the main character. What is he hiding and why doesn't he come out? It's up to you to sneak into his house to get all the answers!
The atmosphere will be scary but you can still have fun! Have pranks and unexpected surprises for the man! It will all start with a mailbox and then your imagination will work better! Make him crazy and enjoy it! Become witnesses of different scenes!