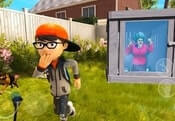 Scary Teacher 3D New Update FREE GAME · PLAY ONLINE
Are you ready to plunge back into the atmosphere of evil and revenge? In fact, it's going to be fun! In Scary Teacher 3D New Update, players will once again break into the educator's house. She has done too much evil to all the students in the school.
This is a great opportunity to do her some mischief! Explore all the rooms to find new secrets. There is a huge amount of evidence that will confirm the bullying of the children. Drive the woman crazy and enjoy it! Now here are some new mockingbird options!