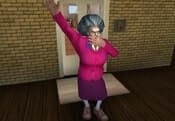 Scary Teacher 3D Android FREE GAME · PLAY ONLINE
Now players can enjoy this game right on their phone. Without getting up from your own bed, you can drive a crazy woman to a nervous breakdown! She has no idea that there is someone else in her house. Be quiet so she doesn't catch you and punish you.
Don't take her screaming and beating you, you're not in school! Come up with different ways to hurt her, but do it carefully! Give her a few surprises and watch her freak out! Make her think about her behavior! Let her hair fall out because of shampoo changes and more!