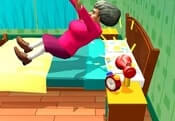 Prankster 3D FREE GAME · PLAY ONLINE
In this game, players will once again have to face the evil teacher. This version has slightly different graphics and challenges. Now you will have to break into the woman's house and wreak havoc. You have to do it carefully and be careful so she doesn't notice you.
Each mission will be able to scare you and then make you laugh. Choose the right options to mess with Miss T! It depends on your decisions how well you can get revenge on behalf of all the students! Show that she's not the only one who can scare everyone!