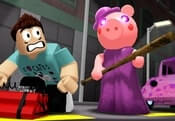 Roblox Piggy FREE GAME · PLAY ONLINE
This challenge is considered horror, but you can also have fun here. In Roblox Piggy, you will play as an animal that must explore the world around it. She has a super important task that must be completed. The hero must find George, who caused the fatal disease.
Management here is simple, so there will be no difficulties. Also, in addition to walking around the city, you can do construction. Find and use items to your advantage! This process is very interesting and exciting, so it will not be boring!