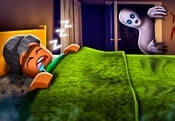 Roblox Short Creepy Stories FREE GAME · PLAY ONLINE
A well-known platform has created a challenge that will make everyone tremble with fear. In Roblox Short Creepy Stories, players will experience real horror! Go to a mansion that looks like a dollhouse and explore it! The process is based on walking and revealing terrible secrets.
Do not forget that in any case, a terrible monster lives here, and perhaps he is not alone! Complete tasks, look for items and use them for the necessary purposes! Will you manage your emotions or will you run away from this place?