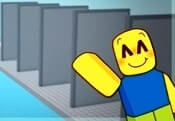 A Stereotypical Obby FREE GAME · PLAY ONLINE
In this game you will take control of an awkward character. He is being chased by an enemy who wants to brutally punish him. The main task is to run and not stop, because this will lead to loss. The enemy will catch up with you and you will lose all your points.
The mission seems simple, but the path will be long and winding. Turn left or right in time to avoid falling off the cliff! In addition, there will be obstacles along the road that you need to jump over. Watch every step and be vigilant to win!