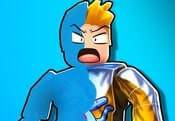 Color or Die Roblox FREE GAME · PLAY ONLINE
Today, players will go to a location that has a long labyrinth. Getting out of here is not so easy, and besides that, there are terrible additions. The creepy monster has already started spying on you and escaping from it will be a real torture!
Participants have to go through a difficult path to stay alive! Each user has their own color in this game. It is with the help of this that you have to move clinging to the wall. Collect items, look for clues and more while completing this mission! Hope for good luck!