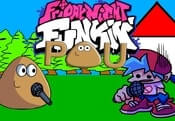 Pou FNF FREE GAME · PLAY ONLINE
In this game, Boyfriend will again fight with opponents. This time he will meet with a nice alien guest. It has no purpose to be cunning and use dangerous tricks. The hero is very kind and just wants to have fun. Players will take the stage and sing a few songs.
Each of them is unique and filled with positivity. Be careful and try not to skip notes. Click on the arrows in time to collect the most points! In addition, you can follow the indicator that will show how much is left to the end. Enjoy this atmosphere!