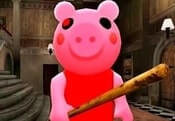 Piggy Horror Game FREE GAME · PLAY ONLINE
If you want to feel adrenaline and tension, then welcome! Here, players will go to the creepy room and will try to get out of it. One of the participants will take the role of a creepy pig that will hunt prey. The rest of the guys must find the keys or other items to leave this area.
In addition, you will solve exciting puzzles and try to avoid the pink monster. You can choose one of the game modes and try your hand! Will you cope with this task or will you die at the very beginning of the process?