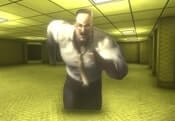 Nextbots In Backrooms FREE GAME · PLAY ONLINE
Are you ready to plunge into a world full of tension and adrenaline? In this game, players will be able to experience it all first hand. Go to a location where it seems that you are being watched. Even though there is enough light here, the atmosphere will be scary.
The main task is to find a way out, as well as meet different types of monsters. Some of them are too popular and therefore you may know what to expect from them. Use weapons to cope with the obstacles on the way and also protect your life!