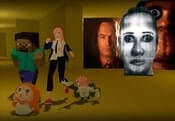 GMOD Nextbots FREE GAME · PLAY ONLINE
This is another mod that will allow you to have some fun and relax. There are no rules or restrictions in the game, so you can experiment in any way you like. There are cool additions here that will allow you to use the ideas that were previously in your head!
Combine objects using different tools and materials to create something! Perhaps with the help of such a structure you can explore the moon or another planet! What are you capable of with your hidden possibilities? Prove to everyone that you are a master!