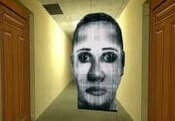 Nextbots In Backrooms: Obunga FREE GAME · PLAY ONLINE
The atmosphere of this game should be pretty familiar to you. This is a closed room where no one can leave or enter. Long corridors create endless labyrinths. Find a way out before you die! It seems that you are going in circles, but there are no other options.
Do not forget that a terrible monster lives here. He is ready to attack you at any moment and you need to be always on the alert! Look around and run if you hear a suspicious sound. With every second, the situation will heat up, so look for clues faster.