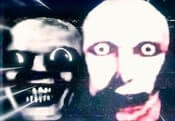 Nextbot Graveyard FREE GAME · PLAY ONLINE
The main character went to the cemetery with his children. Suddenly something happened that he was so afraid of! All of them are gone and now they need to be found as soon as possible. The hero has a radio with which he can listen to everything around.
This will help him track down the little guys and escape. You have to be very careful in the Nextbot Graveyard because terrible creatures live here. They can intercept one of the channels and give false readings. The monsters are ready to rise from their graves!