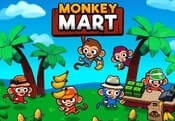 Monkey Mart FREE GAME · PLAY ONLINE
This is a cool challenge with simple rules! In Monkey Mart, you will manage a sweet animal that has its own shop. You have to help her harvest, and before that plant it. Customers line up with a shopping list. Come to the checkout with the right products to give it to them.
Take money and then make new improvements to grow your business! It has amazing graphics and a nice melody that gives motivation! You can also buy new tools to make your work easier! Bake cupcakes, cookies, ice cream and more!