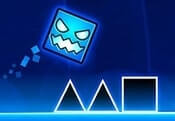 GD SubZero FREE GAME · PLAY ONLINE
The crazy and talented cube is back! A cool adventure awaits players in this new mod! You will have to go to the magnificent and colorful locations. But there will be hundreds of obstacles that will prevent the hero from reaching the finish line.
Choose a song in GD SubZero and jump to the beat! You can also practice before the race to hone your skills. There, players won't be forced to start over if they hit an object. Concentrate on doing your job perfectly! Are you willing to go through all the trouble?