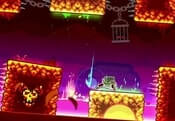 Geometry Dash 2.2 FREE GAME · PLAY ONLINE
In this game you have to control a small square. It loves to do everything in rhythm and you will witness this. Point it in the right direction to get to the end of the song. Be careful, because there are a lot of traps.
This version adds a new level, which is one of the most difficult. Here players will have to be too agile to jump all the obstacles! You will also notice new cool tracks that will add to the good mood! Change the design of your character and discover new heroes! Enjoy this neon atmosphere!